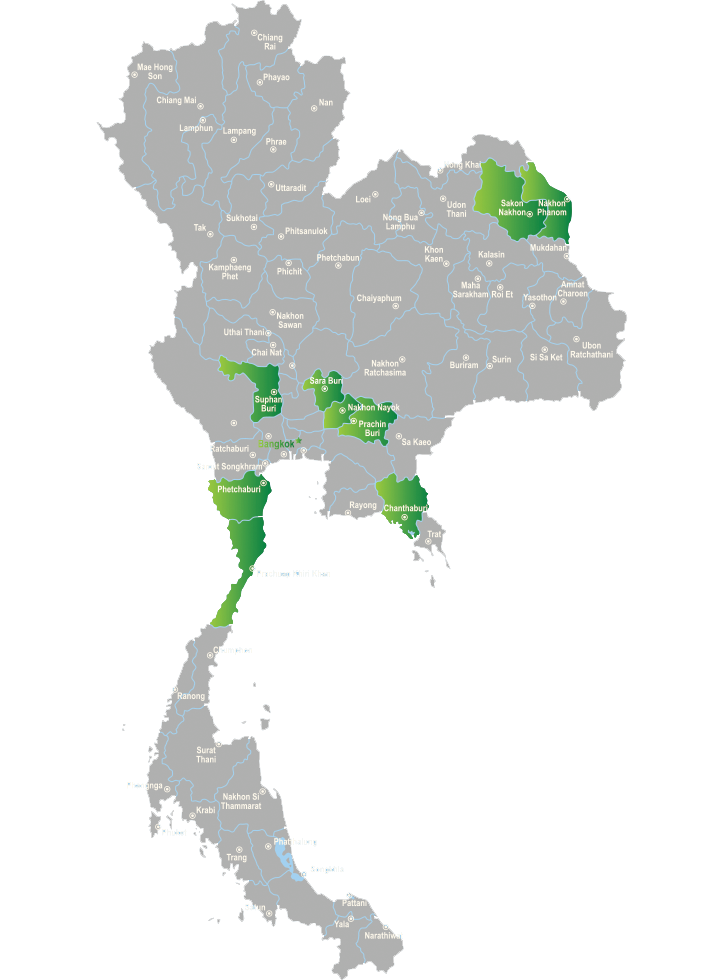 | Plantation Location | No. of Plantations |
| --- | --- |
| Sakhon Nakhon | 63 |
| Nakhon Phanom | 6 |
| Chantaburi | 6 |
| Nakhon Nayok | 8 |
| Petcha Buri | 2 |
| Prachin Buri | 9 |
| Prachuab Kiri Khan | 1 |
| Saraburi | 2 |
| Supan Buri | 1 |
Thailand
9 Regions – 98 Plantations
Forestry in Thailand has always been about more than tree management. The countries Royal Forestry Department (krom pa mai, RFD), established in 1896, dates to a time o fgreat political and social change in Siam. Its creation reflected Siam's need to demonstrate to European powers (and to European logging companies) its ability to provide bureaucratic order. Not coincidentally, the department's first head was a British forestry officer. In keeping with the policy, Asia Plantation Capital prides itself in creating sustainable employment in areas where previously there were few
opportunities for the hard working farm and plantation workers, our workers now have sustainable employment, as well as our forestry plantations being sustainable, we will also strive to improve living and general conditions for our workers and their families.
The rapid expansion within the Asia Plantation Capital forestry division has resulted in the creation of 28 new plantations with many more to follow, located in the North East of Thailand, Sakon Nakhon, Ban Najan province.
These are all fledgling plantations that have been created from prime agricultural freehold land, the very consistent growth patterns being observed are a testament to
the Aquilaria Crassna (agarwood) trees suitability and enjoyment of this very fertile part of Thailand.
Crops planted: Agarwood, Mahogany, Bamboo, Teak, Grapefruit, Pineapple and Mixed Fruit Trees