Africa Plantation Capital, part of the APC Group of companies , has just signed a Memorandum of Understanding with the Kenya forestry Research Institute (KEFRI) providing a broad framework for cooperation.
The MoU (memorandum of understanding) also provides links in natural resources management and conservation, specifically scaling up key technologies and innovations on bamboo production, management and value addition along Kenya's coastline.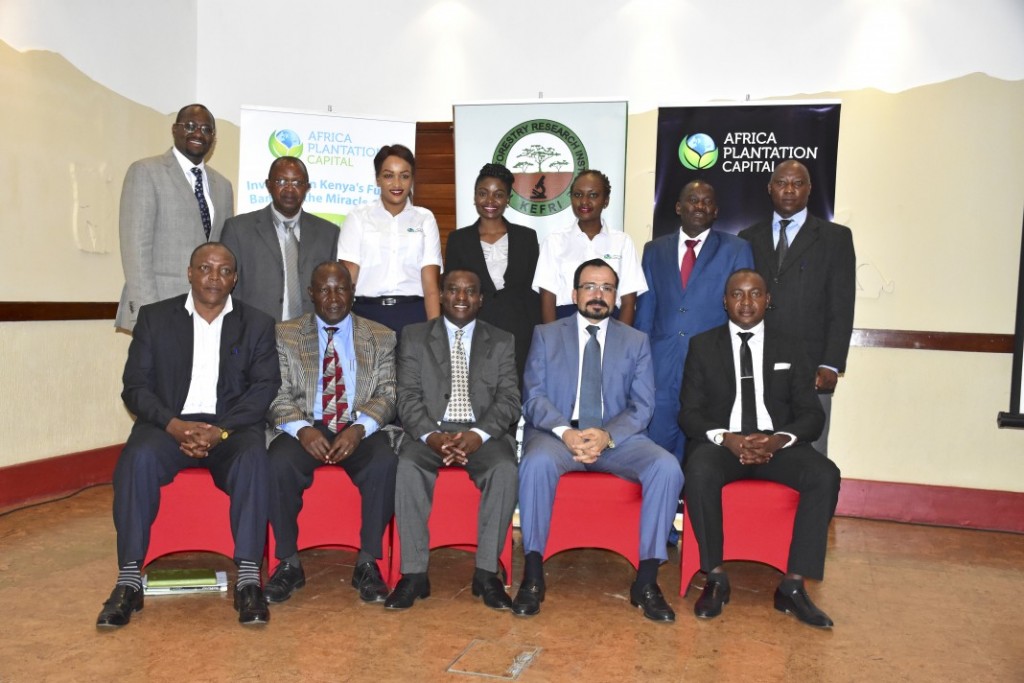 The APC Group is widening its corporate presence to Kenya in a bid to facilitate the group's major investment into forestry plantation sector that could be crucial in meeting the challenges currently faced by the global timber and biomass industries, as well as driving the quest for sustainable manufacturing solutions.
In Kilifi, Africa Plantation Capital has acquired 200 acres and reserved 800 acres as part of its first multiple-step bamboo project in Kenya. Africa Plantation Capital is targeting the establishment of more than 5,000 acres in the next five years between the ports of Mombasa and Lamu.
Speaking at the signing of the MoU in Nairobi last month, Africa Plantation Capital managing director Mr. Kostantinos Kioleoglou said the new expansion would benefit both large and small-scale farmers for a multitude of end uses to which bamboo can be put. The project will boost both the Coast and national economies.
In 2015, global sales of bamboo related products where valued at over $50 billion (Sh5 trillion) and Kenya is in a prime position to take its share of this lucrative market.
"Kenya has perfect soils and climate for the cultivation of numerous bamboo species and growing bamboo will have positive impact on the earnings of both large and small scale farmers," Mr. Kioleoglou said.
Bamboo is a woody perennial grass with 91 genera and over 1,000 species in the tribe Bambuseae. It is one of the most sustainable species in the world today with a wide range of potentially lucrative commercial opportunities. Studies show that more than 1000 different products can be manufactured from bamboo and has led to successful and viable industries in other developing countries such as India and China.
As a fast growing, highly renewable resource with properties similar to timber, bamboo can support green economic development and contribute to key national development goals such as Vision 2030 and global sustainable development goals. The APC Group has been developing commercial bamboo plantations in Thailand for several years, and managing these on behalf of private clients.
Bamboo also releases more oxygen into the atmosphere than any other plant species, given the respective timescales. In Africa Plantation Capital's opinion, its description as the 'miracle plant' is appropriate.
Africa Plantation Capital has invested heavily in research and development, discovering multiple new (and in some cases ground-breaking) end uses for bamboo pulp and fibre.
Working with experts in the industry, alongside its own scientific advisory board, Africa Plantation Capital believes that it has developed an unrivaled husbandry programme for commercial bamboo plantations that include multiple, vertically integrated end products.
KEFRI senior deputy director, research and development Dr Bernard Kigomo said rehabilitation of river line areas and training of artisans will take off soon as the initial 1,000-acre project (planned as 150 gated plantations), takes off by end year.
"There is a bright future for bamboo in the country especially because the demand for cotton fibre exceeds the supply. Bamboo fibres will be our main product and preparations are underway for the first 1,000 acres that has been acquired," he said, adding that unlike other bamboo species, which take three years to mature, the bamboo fibres introduced by Africa Plantation Capital would take five years to mature because of their high productivity. He said that there is need to build capacity of farmers trained on management and propagation.